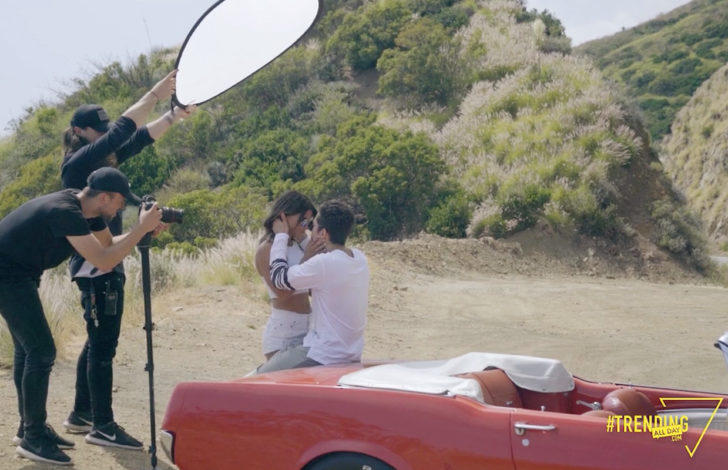 Austin Mahone just dropped his official music video for Better With You, and we are going to strive to have our entire summer resemble its vibes.
After joining Mahone on set for the chance to grab an exclusive behind the scenes look at the filming of his new video, we couldn't wait to see the finished product.
Director, Vitaly Kibenko, said that his vision, from the start, was to create a video that would be a relatable story about a relationship between a guy and a girl. We truly believe that he accomplished this, because while watching Mahone and actress, Naila Nazer, run through Los Angeles, we found ourselves remembering some of our own favorite carefree summer days.
During our visit, Mahone also talked about what an average day in his life is like, explaining that it really does depend on the day.
"Some days I'm going to the recording studio, some days I'm shooting videos. Other days I'm doing photo-shoots, other days I'm performing [or] doing a live show. So it just depends on what I've got going on."
We also got the scoop on why Mahone is particularly excited about his For Me + You tour, and what about this tour will be different from his other shows.
Fans have been enthusiastically tweeting at Austin since the video release, and the verdict is in- everyone loves it.
I was just watching it when you tweeted this😛 UM YA SO IM OBSESSED WITH THE WHOLE VIDEO CONCEPT👏🏻

— Briana Cabral (@bricabral1) June 1, 2017
MY FAV VIDEO

— ambzz (@FeistyMahone) June 1, 2017
We are so excited to see what else Austin has in store for us this year, and we can only imagine that good things are heading his way.
Check out our exclusive behind the scenes footage with Austin Mahone on set below, as well as his official music video for Better With You!