Logan Paul has made it clear that he doesn't just want to be a Youtuber for the rest of his life!
The controversial Youtuber teased out that he may be looking to move away from the Youtube space. Logan who recently hit headlines for his feature-length documentary about Flat Earthers.
Logan hit social media over the weekend to share how he was thinking about the future of his career.
Logan took to Instagram stories to say - 
"Youtube's dope. internet based content is awesome. but i have a veeeeeery deep desire to do MORE. Stand-up comedy. music. directing films. writing. i'm just stuck in a loop where my stupid millenial brain is so satisfied with the instant gratification that social media provides. Post a vlog. get views. post a pic. get likes… it's like i've been conditioned to lack the patience of investing in the deeper art of entertainment. Do i continue making internet shit? or do i take 1-2 years of low character building to become a super entertainer? I don't want to be a youtuber for the rest of my life. F*** that. in fact, i think being a "youtuber" is whack… it's a very limiting pigeonhole that will not provide the longevity of stardom i'm looking for.
SOME1 GIVE ME ANSWERS PLS."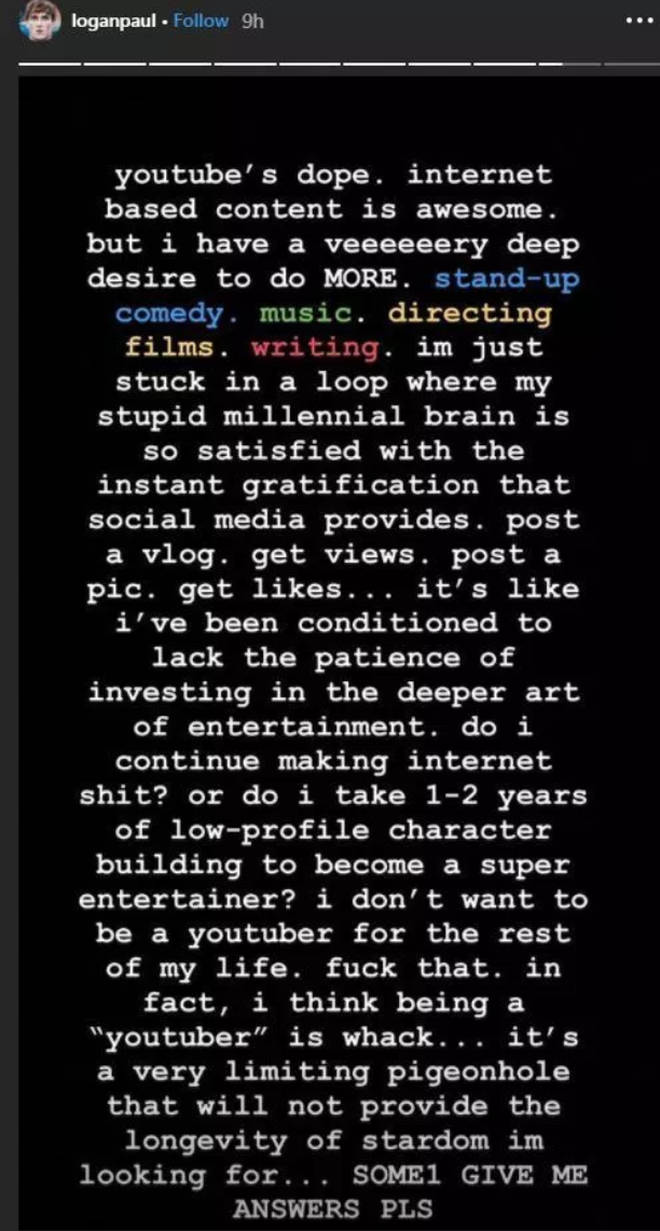 This doesn't seem to come as much of a surprise, Logan has been talking about wanting to do additional things outside of Youtube for some time now.
With that being said Logan has a poppin podcast Impulsive, he's currently working on that is doing great on Youtube so we will have to see how this all plays out.
What do you guys think? Let us know below.