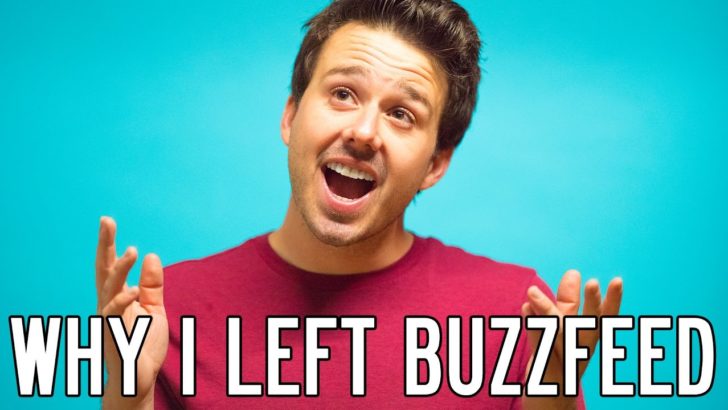 Chris Reinacher has a bright post-Buzzfeed future ahead of him. Want proof? His first solo video ever just trended for two days straight on YouTube.
If the name Chris Reinacher doesn't sound familiar to you, then you might at least recognize him from popular Buzzfeed videos series like Misheard Lyrics or from Boldly's Chris & Brittany. Let's all catch up quickly with some of Chris's greatest hits:

Okay, I recognize him. He's hilarious. What's Chris up to now?
Well, Chris announced his resignation from Buzzfeed Motion Pictures last June on his Facebook page:
"Today is my final day with BuzzFeed Motion Pictures. I've had an incredible time writing scripts, looking for grocery store chicken, debating about pancakes and doing a deep dive on the character Ryan from Europe. However it is time for me to join the ranks of BuzzFeed Alumni and walk into the sunset."
Ironically, this post was released about an hour after BuzzFeed Motion Pictures president Ze Frank issued a memo to his staff stating that "employees couldn't work on outside projects without permission, and reiterating that BuzzFeed owned all content created during their tenure."
Clearly, Chris had bigger and better projects on his mind. And as of this week, we finally have a real idea of what's to come from the talented video producer. Last week Chris teased fans with his new channel trailer, but now we have his first official video explaining why he left Buzzfeed.
So, why did he leave?
It's pretty common for Buzzfeed alums to release videos explaining why they left the media company. What's not so common? Having your "why I left Buzzfeed" video trend for two days straight.
The new video is trending on YouTube! This is the best 420 ever. https://t.co/frNHY70zpe

— Chris Reinacher (@chrisreinacher) April 20, 2017

After watching the video, you might get why Chris is getting a little extra attention:

Okay, can we talk about this production value?! The fact that the entire 4 minute video was filmed in ONE continuous take is probably the most impressive part. Chris didn't stop there, thought. He also threw in some grade A sound effects, writing, and acting to thoroughly "wow" viewers. His efforts paid off, judging by the internet's reaction so far:
Idk why I'm so amazed at the quality but I'm so excited to see more content. Congrats @chrisreinacher! Subscribed! https://t.co/uG99jwjj8Z

— steffani (@steffssoovogue) April 20, 2017
Just watched this. My reaction: fuck yes. Can't wait for more. https://t.co/XoGt7aViUC

— aBlaze (@AmieeB) April 20, 2017
most​ creative "why i left buzzfeed" video ever @chrisreinacher https://t.co/rWAjqY5vO2

— Gab Rutaquio (@thisisgabbyriel) April 20, 2017
I am rarely shocked at production on YouTube https://t.co/BvL62pP4Tm

— Nadia (@DravenDarkwyr) April 21, 2017
Fans haven't only been showing their love for Chris on Twitter, they're showing it through subscriber counts. Late Friday night, Chris tweeted about his crazy fast subscriber growth in the last three days:
We reached 42000 subs in 3 days! You guys are awesome. Thank you.

If you haven't yet, https://t.co/J4rZewquZW

#42000 pic.twitter.com/cCban3lbgs

— Chris Reinacher (@chrisreinacher) April 22, 2017

Even more impressive? As of early Saturday, the channel has already reached 53,000 subscribers! It's clear there is no stopping Chris, and we can't wait to see what he has in store for us.