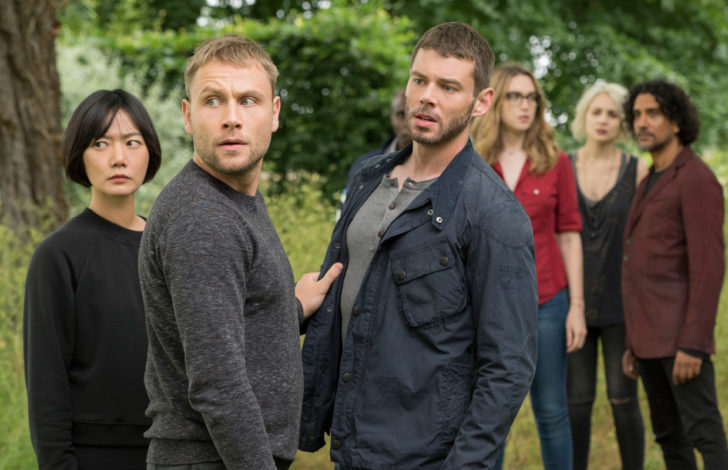 We are absolutely devastated to announce that the wonderfully diverse and inclusive series, Sense8, has been cancelled.
Honestly, this one hurts a lot. Aside from the fact that Sense8 was a huge step forward for the LGBTQ+ community as well as racially representative, the message behind the show was one of unending empathy and true inclusivity amongst humankind.
The series was shot all over the world, which brought an overwhelming authenticity to every culture they so tirelessly aimed to represent.
This cancellation is a huge hit for fans everywhere, but people are also bringing up the fact that the news of such a LGBTQ+ positive show being cancelled on the first day of Pride Month is not only heartbreaking, but disrespectful.
Manny MUA in particular took to Twitter to express his disappoint in the news, and how this affects those celebrating Pride.
ARE YOU KIDDING ME? @sense8 have you really been cancelled? Please say no 😩😩😩 @netflix please don't do this to us sensorians!

— Manny MUA (@MannyMua733) June 1, 2017
Disrespect at its finest! https://t.co/s03y56B26o

— Manny MUA (@MannyMua733) June 1, 2017
Save sense 8 😩 lmfao https://t.co/JZgz8jtbir

— Manny MUA (@MannyMua733) June 1, 2017
Netflix is about to receive a lot of backlash. Fans all over Twitter are considering this their last straw in terms of the blatant lack of representation in popular entertainment.
The most gender, sexuality, race, religion, mental health inclusive show quite possibly ever, and you bloody cancel it. Why @netflix #Sense8

— katieroo (@allouratoms) June 1, 2017
canceling one of the most amazing & diverse LGBTQ+ shows on Netflix, MID-STORY, at the start of Pride month, are you serious? #Sense8

— Emily M. (@flotsamblossom) June 1, 2017
#Sense8 was cancelled so lemme tell y'all about this great streaming app called Hulu you may have heard of it pic.twitter.com/1l2W98tEVz

— Wiley 🏳️‍🌈 (@williethepooh98) June 1, 2017
it's the first day of pride month and netflix really just cancelled a show with amazing LGBT rep huh #Sense8 pic.twitter.com/WoBMSgaPKu

— cate loves phillipa (@rosesdestiel) June 1, 2017
We have even seen a few Netflix subscription cancellation pictures, and while this can be seen as an extreme measure, we understand the desire to somehow show Netflix themselves how angry users are about the news.
Goodbye @netflix. It's been a nice distracting 8(?) years? #Sense8 pic.twitter.com/ExzmrZYnUG

— Stephen (@DotYawning) June 1, 2017
What do you guys think? Are you as upset as we are about the Sense8 cancellation? Let us know!